Visitors to site: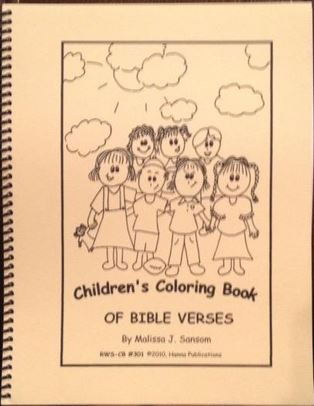 Like us on Facebook and receive this Coloring Book FREE

(Click to download)

Our Mission and Goal:

The mission of Hanna Publications has always been to teach Godís Word and help Bible Teachers, parents, and all who use our curriculum with the goal of properly grounding students in the Scriptures so they will want to be saved and remain faithful all their lives. In celebrating our 20th Anniversary in 2014, we now have material from Cradle Roll through 8th grade. We continue to strive to fill in areas where additional teaching is needed for various age groups.

Barbara Hanna began writing her own lessons long before 1994, using them in her own Bible classes. Her goals were primarily (1) to make sure her Bible students were learning the Truth, and (2) to provide lessons that could be taught to a wide age range. After she began publishing the lessons, it has been pointed out that any of the material could be used for one grade level only, as well as in a multi-age classroom.

At first all of the curriculum was published only in book format. Later, modern technology allowed that documents could be saved in PDF and placed on CDs, to be used on any computer with Acrobat Reader. Eventually the same PDF material was placed on the web site as downloads.


PUBLICATION INFORMATION:

Lesson topics are grouped into categories:

Cradle Roll lessons are especially suitable for classrooms with ages six months through two years. With nine months of OT lessons and another nine months of NT lessons, this curriculum can easily be used for 18 months or longer. Each month teachers can print small flip charts with songs and activities. Toys teach and capture attention. Coloring pages are provided for ages one to two, with suggestions of stickers the little ones love to apply.

Preschool lessons began primarily with various topics, such as good behavior and how to worship. Series about Jesus and parables were added. Lisa Smith has written many of the lesson books herself, and has also helped Barbara Hanna with activities when both worked together on a project. Lisa began working with HP in 2005.

Grade School lessons are a large part of our work. Barbara began writing lessons on how to worship, Christian character, and the life of Christ. Other topics were added to the NT topics. Then a series of 16 OT sets of 13 lessons each became a focus, in order to cover the OT in greater detail than is generally available. John K. Wills, the owner of Ten to Teen Press, offered to develop lessons for grades 5-8 to be added to Barbaraís lessons for grades 1-4. When Lisa began working with HP, she also contributed to this series as well as the NT lessons.

Bible Boot Camp is a unique study method developed by Bonnie L. Gary. BBC 1: Basic Training was published first for grades 1-6, with Barbara adding some to what Bonnie had already completed. They also worked together on many of the drills and activities. Later Bonnie created BBC 2: A Few Good Men for grades 3-6.

JOY IN THE MORNING is a book for adults, written by Barbara Hanna after the death of her daughter Angie Hanna Lee (in 2003). It was published in 2006 and continues to be available in paperback format.

Other publications include: A Childrenís Reproducible Coloring Book; Memory Verse aids, and lesson series by John K. Wills.

BOOKS WILL NO LONGER BE REPRINTED. CDs and downloads will continue to be available. All new material will be published only as CDs and downloads. If you do not have a computer, a church member might print out the documents for you. HP has a large supply of many of our books. When a book is out of print, it will no longer appear as a purchase option on this web site.


SHIPPING POLICY:

Hanna Publications ships all orders via Priority Mail, so when you place an order please provide your postal mailing address. You will be charged the minimum rate for a priority flat rate envelope or small box, or 20% p & h on orders up to $99. All orders of $100 or more will be sent Priority Mail for only 15% p & h. There is no UPS office in Shallowater.

Many customers prefer paying with PayPal. It is very simple to set up a PayPal account using your credit card, debit card or checking account. If you do not use PayPal, you are to send a check within 30 days of your order. You may place orders from this web site, by telephone, or send an e-mail order.


Family Updates
Angie (Hanna) Lee was killed in a tragic car accident on August 30, 2003. For more information click here.
Angie left a baby daughter, Sophie, who was almost a year old at the time of her death. So many have inquired about Sophie and the rest of the family. Updates will be added periodically for those of you who would like to know more about Sophie and the rest of the family.
Contact Information
Telephone: 806-441-8507

Postal address:
Hanna Publications

P. O. Box 486

Shallowater, TX 79363
Electronic mail
General Information: HannaPubli@aol.com
Sales: HannaPubli@aol.com
Webmaster: webmaster@aPerfectHost.biz
Hanna Publications highly recommends the creator of this web site:
Click here for a reference
Click here to go to the APerfectHost web site